It's March everyone, and that means it's cold out there!
But competition is

heating up, especially in Spokane, Washington as a certain "madness" descends on the city in sports and real 

estate.
The #1 ranked Gonzaga University's Zags prepare for the March Madness Basketball Tournament and multifamily properties are trading daily… we're on the edge of our seats!
In this edition of the Akras Insider Update, we'll get an update from Akras Team and see a new apartment building we're adding to our roster in Spokane (within walking distance of the Gonzaga Zag's home court). We'll also show you the progress on our newest Browne's Addition property, which is getting a new roof and finally we'll go court side and get an interview with our All-Star Founding Partner, Kristina Knight, who's got what it takes to win.  
Do YOU have what it takes to WIN??? We'll see! Enjoy this month's edition of the Akras Insider…
Akras Team Update: Charging Ahead!
First off, the Akras Team has been busy over the start of Quarter 1 '19. We deeply analyzed over a dozen on and off-market deals, ranging from a 12-unit apartment building for $1.1M to a set of two triplexes for $799K and a 7-Unit for $800K. But none of them truly had what it takes to be seriously considered for our portfolio of high performing, cash flowing MVPs. That is until this little gem in the University District came to us off-market through our network of deal-finders in Spokane.
Deal Update: Gonzaga University 7-Unit Apartment Building – Is It a Slam Dunk or an Airball?
The Deal Details:
7 Unit, Purpose-Built "Garden Court" apartment building, constructed in 1974

Logan Neighborhood (University District), walking distance to Gonzaga University and others

Brand new roof, well maintained and "classic", but clean units

Could use a modernizing remodel, an exterior update and grounds maintenance
Rents are below market and some stabilization is needed
We recently completed our due diligence, including appraisal, walk-throughs by our contractor and property management partners, and reviews of leases, titles and past work orders.  The results were promising and the repairs costs were within expectation, so we negotiated a price that would provide solid returns to our investors. We are now working to close the deal. It will cash flow immediately, has room for improvement, and boasts a nice sales exit potential. This deal is shaping up to be a slam dunk!
Update on Our Last Acquisition – 5 Unit in Browne's Addition
Since we closed on our new Browne's Addition building (and boy, what a close it was…a whole article on THAT later), we've been working to transition property management, welcome our tenants to the new ownership and begin to take care of the building's needs. All of that is moving smoothly forward!
With an interest in selling the adjacent single family home that was part of the deal this spring, we wanted to get it fixed up first. Since the tenants vacated before we closed (another interesting surprise), we have the building ready for an interior remodel. But before we do that, we wanted to test the market to see if there is a buyer out there who wants it "as is", where we can still make our numbers work without a time and capital-intensive remodel.
In the meantime, we're re-roofing the property and fixing some structural issues that came up during the contractor's inspection. See pictures below.
Next up, we're making some structural and cosmetic updates to the main 4-unit building and market-stabilizing the rent. Stay tuned for more!
Some Images of the Project:
Courtside Interview  with Founding Partner, Kristina Knight

We sat down with Kristina and asked her 5 quick questions about her life, real estate and what she's passionate about. World, meet Kristina!
Tell us about your background and where you grew up.  
"I grew up in Buffalo, NY, home of the Buffalo Chicken wings, although I am now actually vegetarian and have never liked chicken wings!
I came from a very humble background, and have had to work extremely hard for everything I have.  From the time I was 11 I had a job delivering papers and when I was 13 I started working at my family's pizzeria.  This gave me my first taste of entrepreneurship as by the time i was 16 I was helping to manage the business. Funny enough – pizza is still my favorite food to this day!  
These initial work experiences helped me realize how important it is to have a strong understanding of finance. After high school I was interested in running my own company some day, so I decided to major in both finance and business management at university.  Having not come from a wealthy background I put myself through college at Northeastern University and often worked 20+ hours a week while taking full time classes in order to pay my tuition bills.
I am a firm believer that hard work, dedication and persistence are the key to achieving your dreams and that anyone can create the life that they want for themselves if they just commit to going after it.

What did you do before you got into real estate investing, and how did your experience prepare you for this new venture?
I spent 10+ years in the investment management and finance industry as a portfolio manager, trader and research analyst. The majority of my career was spent focused on analyzing and purchasing investments that were impacted by the housing industry and its underlying economic trends, so I became extremely familiar with the real estate industry and how it worked.  Both my analytical and investment background have proven extremely helpful in this new venture in terms of understanding the economic factors of the industry, analyzing real estate investments, and understanding the more complicated aspects of structuring a real estate deal.
Tell us about your first real estate deal and what you learned from it.
My first property was a condo in Boston. I bought it in 2015 to live so that I could stop paying rent to someone else. In Boston, rents are very high and it was much cheaper to own than to rent. At the time I knew nothing about real estate investing and had no plans to get involved, but I was fascinated by the idea of owning real estate. Part of my process for buying was making sure that if I needed to rent the condo at some point, I could cover the mortgage payment. I also knew location was the number one driver of finding good tenants so I looked for a location that was desirable in an up and coming neighborhood within walking distance of downtown.  The condo was less than a 5-minute walk to a Whole Foods Grocery and a short subway ride downtown. Two years ago we decided to quit our jobs and travel, and the condo rental plan worked perfectly! Not only did the rent I receive cover my mortgage, it left me with extra cash flow to help defray the costs of the trip. This led to one of those "Ah Ha" moments where I thought to myself, "if I could do this just a few more times I could pay all of my living costs with passive income'. And thus my real estate investment journey began – we still own and manage this property.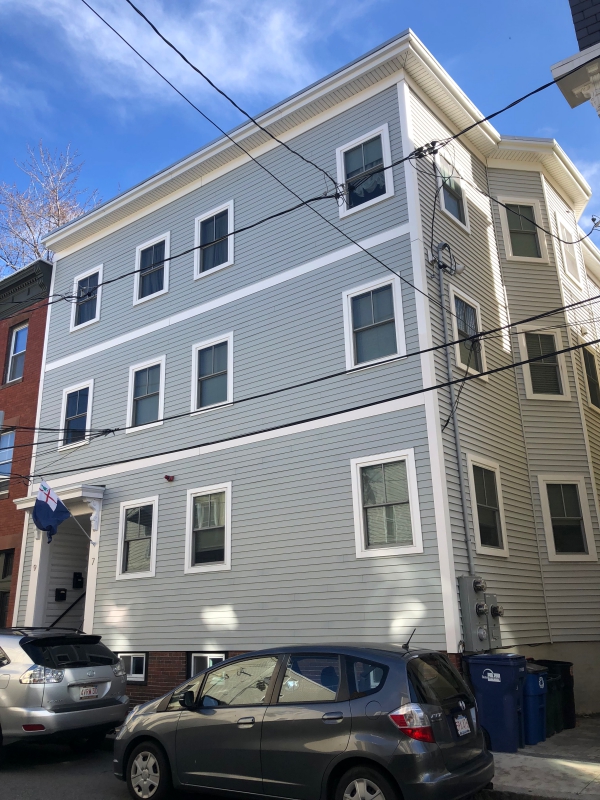 What do you do for fun outside of real estate investing?
I am an absolute travel junkie. In March of 2017 I took a break from the corporate world, walked out on the skinny branch and spent a year of my life traveling the world. I visited over 30 countries with my husband.  It was the trip of a lifetime and I feel so fortunate that I was able to see, experience, and meet so many different countries, cultures and people. It was the most rewarding and challenging experience of my life and I learned so much about myself and what I am capable of. Aside from travel, I pretty much spend the rest of my free time practicing yoga, skiing, hiking and eating vegan food. I love the outdoors and spending time being outside is super important to me, which is why we moved to Boulder, Colorado!
So, I sense a bit of a competitive streak – am I right? Tell us about it!
When you grow up in a 'fight to survive' mentality, a natural tendency toward competition develops. This expressed itself most outwardly in team sports, and I played competitive soccer through my childhood and teens. Now my competitive spirit is more inwardly focused, especially with Yoga, trekking and skiing. I'm always competing against myself (and my husband) to push my personal limits and get better.
In business, this competitive streak has me working to learn more about the real estate industry by reading books and meeting others who encourage me to grow.
I'm also pretty good at Scrabble, which drives my chess-playing husband crazy!
Have any questions for Kristina or want to meet more of the team at Akras Capital? Either submit a comment below or get in touch with our contact us form.