Our most commonly asked questions...
Please click the question below to reveal the answer. If you don't see your question, or seek further clarification, please reach out to our team using the Contact Us link on the bottom of the list. Thanks!
How can I achieve financial freedom passively investing in real estate?
The best way to start answering this question is to understand about active versus passive income, and the ways to create more passive income streams in your life.
Download The New Roadmap to Financial Freedom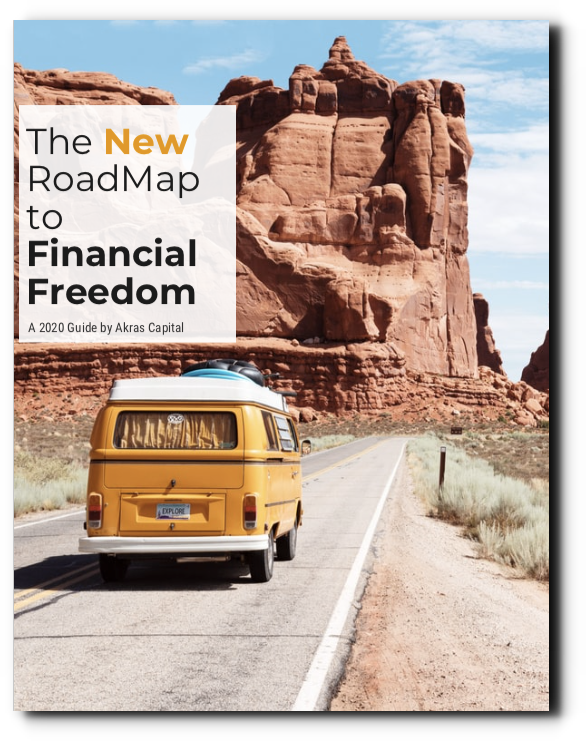 The "New Roadmap to Financial Freedom" is a simple step-by-step guide to help you understand passive investing in real estate and how it can create real freedom in your life. It includes tips and techniques learned and used by the founders of Akras Capital and their investors that help you untangle the jargon, set clear goals and take concrete actions to achieve them.
---
Ready to take the next step?
Learn more about syndications, the best-kept secret in real estate investing, in our comprehensive article: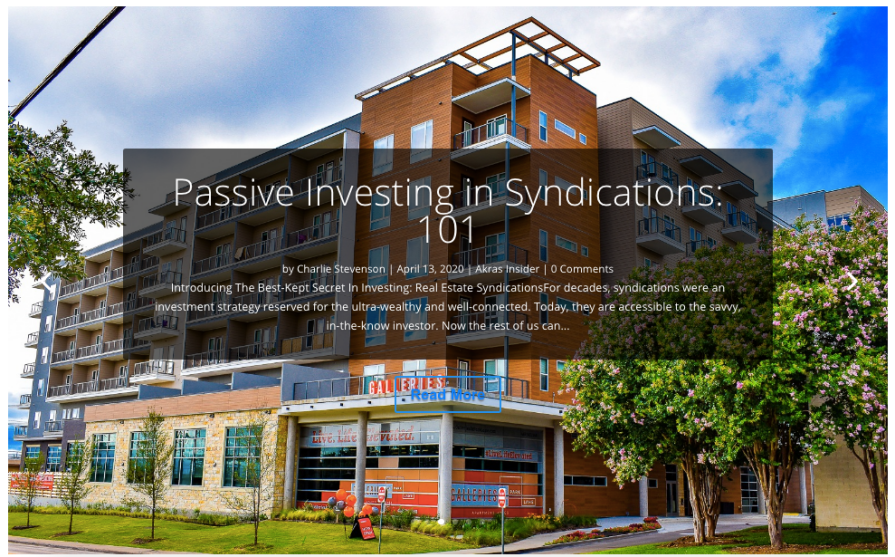 What is a real estate syndication?
Syndication is a way for a group of real estate investors to pool their financial resources and business expertise. It allows them to purchase much larger multifamily apartment buildings than they would be able to acquire and manage on their own, providing higher returns. They then share in the financial success of this investment.
Said another way, we buy apartment buildings together. You passively invest a minimum of $50K with other fellow investors and our team manages the business plan, so you don't have to worry about the plumbing. You then enjoy the rental income that our residents pay monthly, as well the profits when the building is sold a few years down the line. 
---
Ready to take the next step?
Learn more about syndications, the best-kept secret in real estate investing, in our comprehensive article: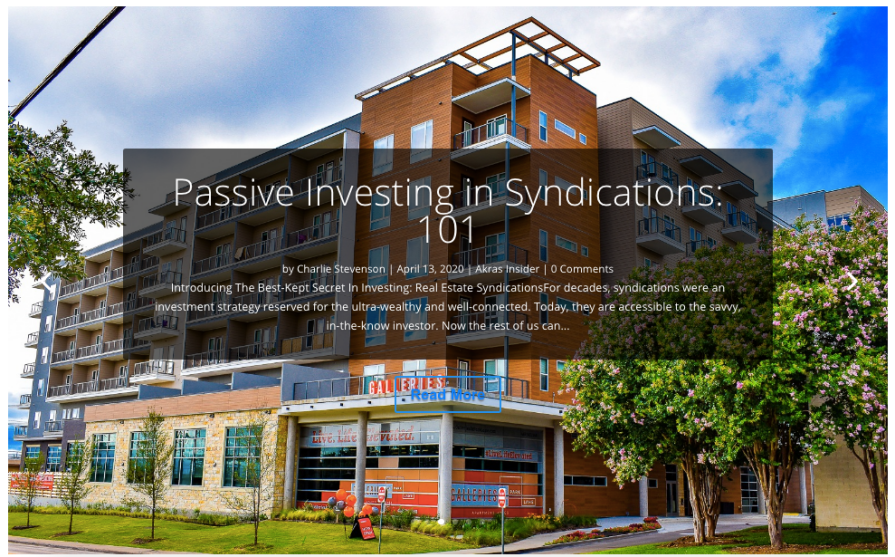 How much money can I make passively investing in real estate syndications?
While returns vary from one deal to the next, most current syndications have targeted annualized return of 13-17%. All investments present risks, and past performance is no guarantee of future results. 
---
Want to learn more?
Learn more about how much investors can earn and how those returns are paid in our comprehensive article:
Syndication sounds too good to be true. Is there a catch?
No. While syndications as an investment vehicle are fairly new to traditional investors, they are a proven way for a group of investors to acquire large-scale real estate assets, like multifamily apartment buildings. These have been proven as a great asset for wealth creation for generations. While there are risks associated with any investment, Akras invests in these assets because of the unique level of safety paired with the attractive blend of cash flow and total return. It's important to work with a team that has a high degree of fiduciary responsibility and an ethos that you align with.
What happens to my investment in a downturn?
Our goal at Akras Capital is to preserve your capital in a recession, which starts with how we conservatively underwrite our investments from the beginning. While no investment is recession-proof, there are many ways your real estate investment is resilient against a typical downturn: 1) People always need a place to live, and demand for rentals (versus buying) increases during recessions 2) We secure long term financing, ensuring we are not forced to sell during a downturn which allows us to "ride it out"3) Multifamily apartments continue to generate rental revenue, even during a recession. The biggest risk is that the project, and the sale at the exit, are delayed.
Does Akras invest in its own deals?
Yes, as a show of support to our investments and modeling, and because we enjoy the passive income our investments create as well, we always passively invest alongside our investors in our deals.
Where can I find investment capital?
Often, new investors don't think to look beyond their personal savings accounts for capital to invest. A little creative exploration can reveal great sources of capital that you might not have realized are available. Besides personal savings, we like to look at our home equity and our IRAs. In particular, IRAs from a former employer can be converted into a "Self-Directed IRA" (SDIRA).
---
Want to explore for investment capital?
Read more about the SDIRA as a hidden source of investment capital in our article:
What is an "Accredited" investor, and do I need to be one to invest?
An "Accredited Investor" is a person who meets requirements regarding income and net worth, based on Securities and Exchange Commission (SEC) regulations. This was developed to safeguard investors and provide them with protection.
To be an accredited investor, you need to meet at least one of the following criteria:
Have an annual income of $200,000, or $300,000 for joint income (in your family), for each of the last two years, with expectations of earning the same or higher income this year.
Have a net worth exceeding $1 million, not including the value of your primary home
Many of our investments are only available to accredited investors. That said, some may be available to non-accredited investors as well. In order to invest in one of these deals, you must become a "sophisticated" investor, which means you have learned about the risks of investing and have established a relationship with Akras Capital.
If you are in the process of filling out the Investor Application, and don't know whether you are accredited or sophisticated, simply select the "I'm Not Sure" option from the drop down answers, and we can explore the answer to this question together when we speak!
How do I invest with Akras?
It's easy. Akras Capital is a General Partner in select real estate syndications each year. We invite passive investors to join us, generating more freedom in their lives. If you are ready to begin the conversation about investing with us, please fill out the brief investor application below. One of our partners will reach out shortly after we receive your information to discuss next steps.
Don't see your question? Contact us here
There are three simple ways.
Schedule a meeting using our Akras Capital Meeting Scheduler.
Email us directly at Management@AkrasCapital.com
Send us a message using the form below. We'll respond within 24 business hours.
Thanks, we look forward to connecting with you!